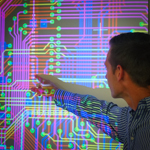 Lectronix hardware development services provides our clients a complete combination of architectural design, prototyping, testing and certification services for developing hardware and complete systems using the industries best tools.
Our Technology expertise includes:
8, 16, 32 bit Microcontrollers and Microprocessors from Intel, NXP (formerly Freescale), Hitachi, Atmel, Microchip, Renesas among others.
Digital Signal Processors (DSPs) from Texas Instruments, NXP (formerly Freescale) & Analog Devices
Multiprocessor system designs
Automotive networking – CAN, J1939, J1587, J1708, J1850, MOST
Automotive hardened digital and analog interfacing.
Wireless systems including Bluetooth, WiFi, WiMAX, and custom ISM Band transceivers
Video and Audio interfaces
Custom Flat Panel Display Systems
Communications Interfaces – 10/100/1000 Ethernet, T1, ADSL, Frame Relay, ATM25 and SHDSL
PCMCIA, ISA, VME, PCI and cPCI BUS systems
Multilayer high speed PCB design
Verilog and VHDL development
To ensure that our clients technical and program goals area achieved, Lectronix executes our project management with a client-centered collaborative approach that ensures effectiveness and efficiency between your team and ours.