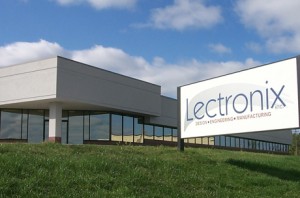 The Lectronix technology team has been together since 1995 when they first began working as an engineering group, providing design, engineering and manufacturing services for telecommunication products for some of the industry's leading communication companies.
In 2002, the technology team evolved into a new commercial entity called Lectronix, Inc., a for profit corporation in the state of Michigan with corporate offices and manufacturing facilities located in Lansing along with engineering design centers located in Ann Arbor and in Grand Rapids.
The entity's charter is to continue to build on the company's core competencies and deliverables in innovation, software development, electronic product design and engineering services that specialize in utilizing embedded system technologies, while offering a complete spectrum of both turnkey and segmented electronic manufacturing solutions into a variety of industries that include automotive, defense, industrial, networking, robotics, telecom and transportation.
Additionally, the company has expanded these competencies into a specialized OEM service offering to become a leading supplier of turnkey solutions to both the commercial vehicle and automotive market, incorporating the latest in communication technologies for safety, telematics, infotainment, and navigation.
Since inception, the Lectronix team has evolved the process of how electronic products are designed, developed, engineered and manufactured in the evolving global supply chain.
In keeping pace with this evolution, Lectronix, Inc. has competitively developed a new "Embedded Design & Manufacturing Services – Hybrid Model" to accommodate the technology driven customer by:
Managing the Security of Intellectual Property
Enabling Stateside Product Development and Know How
Increasing the efficiency of Product Development
Reducing Total Cost to Market
Improving Time to Market Efficiency
Balance the Scale of Production in "Low Cost/High Value Manufacturing Solutions"
Insured by the Industry's leading High–End Quality Models
This model's primary focus is driven by the industry's needs for efficiency and effectiveness of both stateside product development and on-shore/right-shore manufacturing options.
Quality
Lectronix delivers "Quality" Design, Engineering and Manufacturing Services that meet and exceed all of our customer's expectations. This is executed and achieved through the company's International Standards Organization (ISO) Quality Policy Statement.
Our Policy
Lectronix, Inc. exists to serve its customer's needs.
We are committed to maintaining customer satisfaction, flexibility and rapid response.
In all that we do, we will conduct ourselves accordingly with respect for all individuals.
Our Objective
Our objective is to achieve continuous improvement in the quality of our products and services with the ultimate goal of improving customer satisfaction and industry leadership.
Our Commitment
Lectronix, Inc. is committed to a Quality Management System that will enhance customer satisfaction through the delivery of reliable products. Our goal is to consistently  outperform the competition.
The Management of this company will ensure that this policy is implemented and understood by all.

Environmental Commitment
Lectronix is committed to providing our customers with design, engineering and manufacturing services of their technology products while protecting the environment by:
Preventing pollution through the reduction, reuse and recycling of resources in manufacturing, marketing, materials and facilities management and the safe disposal of wastes in an effective and controlled manner.
Adhering to applicable health and environmental protection legislation and regulatory requirements (Federal, State, Regional, Local, and Corporate) concerning all company related activities.
Educating employees concerning the Lectronix environmental commitment, its associated procedures and the prevention of pollution.
Making a conscientious effort to communicate Lectronix, Inc. environmental commitment to potentially affected third parties so that our expectations regarding the protection of the environment are clear and expected of them as well.
Pursuing continual improvement in our environmental performance through appropriate environmental assessments of Lectronix, Inc.
Conflict Mineral Policy
In 2010, Congress passed the Dodd-Frank Act, which directs the U.S. Securities and Exchange Commission to issue rules requiring certain companies to disclose their use of conflict minerals if those minerals are "necessaary to the functionality or production of a product" manufactured by those companies. Under the Act, those minerals include tantalum, tin, gold or tungsten.
A copy of our signed Conflict Mineral Policy can be found below: