As with most mobile work forces, more and more police agencies turning to mobile devices as part of their toolkit for staying connected and situationally aware. Historically, police agencies have relied on two main tools, the MDC computer (e.g. a Windows laptop) and a police radio (aka Land Mobile Radio).  But smartphones and tablets are making significant inroads and can be expected to become increasingly important, especially as the Federal Government begins the FirstNet initiative to provide first responders their own dedicated cellular bandwidth and dependable wireless service everywhere in the nation.
As great of an benefit as these devices offer, one question it raises is how does the officer use them when they are operating their patrol vehicle? Compared to the typical mobile businessman, police offers spend much more time behind the wheel than in conference rooms or tradeshow booths, and have a critical need for information while driving. For all of their benefits, smartphones and tablets have never been well suited for use while operating a vehicle, as they require both hands and eyes off the road.
One answer is to simply put away the device while driving, and revert to the legacy systems already in the car. But this is restrictive and fails to take advantage of some of the other benefits that are appearing along with the growth of mobile devices, such as simpler to operate user interfaces and more advanced applications.
In passenger automotive, the industry is adopting a mix of approaches to let the driver connect their smartphone to the in-dash display and a similar approach is preferable for police use. The passenger solutions, such as Android Auto, Apple CarPlay, and MirrorLink are proving popular and well-designed for their intended use, but are not practical for use in law enforcement, because part of their approach to achieving safe operation is to greatly restrict the applications that are allowed on the vehicle's screen. So they work well for music, messaging, and navigation, but won't work with public safety applications.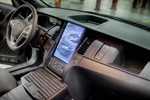 With the Integrated Control System (ICS) we have developed for Ford Police Interceptors, we have achieved a platform that works great with legacy approaches to computing and communications, but works even better as new mobile platforms and applications are brought into the mix. The ICS provides an in-dash 12.1″ screen that mounts seamlessly into the dash of the Ford vehicles. That single optimally located screen operates in a truly multi-function mode and can be the one and only screen needed:
For Windows PC operation, the ICS operates as an HDMI monitor, so departments can continue to run their existing MDC computers
For mobile applications, the ICS can operate as the embedded processor, as the display features a built-in Android platform
For web applications, the ICS directly supports an embedded web browser
For mobile device integration, the ICS can support screen mirroring, where the entire screen of the smartphone or tablet is projected onto the full 12.1″ screen
For other video feeds, such as camera systems, the ICS supports video inputs

We have cooperatively done some technology car builds using some of these features and the results have been compelling. As one example, watch this video below where Harris Corporation and Lectronix worked together to showcase how their BeOn application, which provides a wealth of situational awareness and communication capabilities, integrates with the ICS for seamless operation behind the wheel of a vehicle:
Harris BeOn Application on ICS
One of the things apparent in this demonstration is the many ways that running the BeOn application on the embedded ICS processor enhances the usability and usefulness in a car. Instead of running the audio through the phone's small speakers, all audio is prioritized and run over the main vehicle audio system. While phones have GPS and cellular, the embedded application has the advantage of high-gain roof mounted antennae for improved range and performance. Instead of having to interact with the screen, the user is able to access main functions such as push-to-talk directly from the steering wheel controls. And with this setup, the legacy LMR police radio is accessed as easily as the new voice over LTE service provided by BeOn, both using the same speakers, Ford hands free microphone, and steering wheel controls.
The last thing police vehicles need are more screens to mount and audio systems to compete with one another. The integration capability of the ICS can make a dramatic improvement to how current systems can evolve and co-exist with the new mobile solutions that are emerging. For more information about the ICS system, check out our products section and if you wish to discuss your needs we are a factory that is always eager to hear from users so feel free to contact us!